Awards - 56th Annual Conference of the Mississippi Entomology Association (October 27-28, 2009)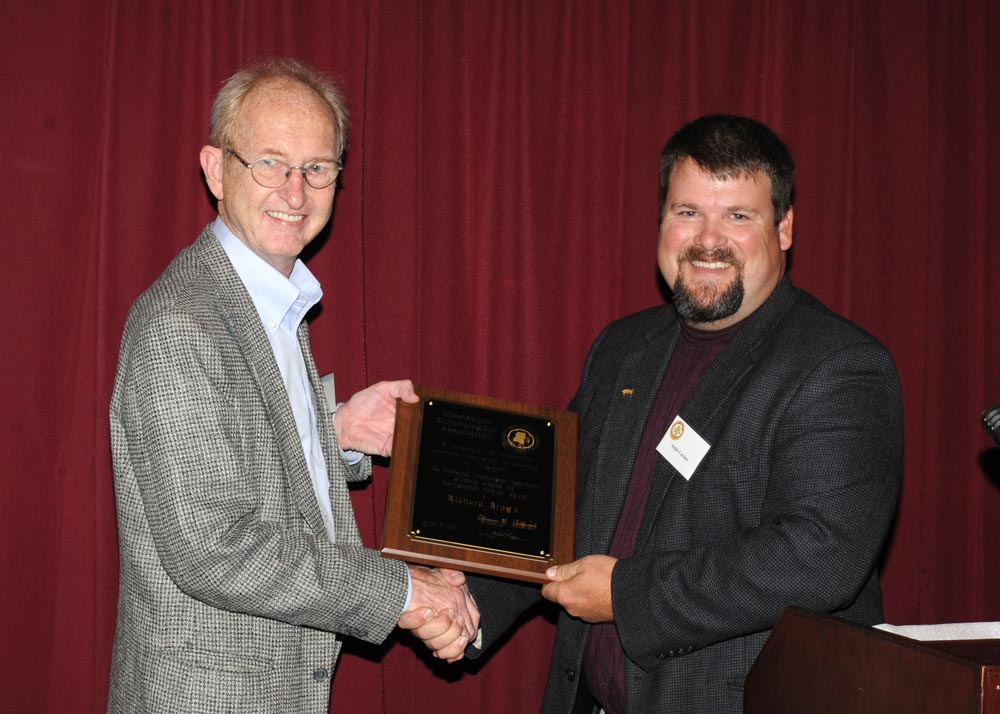 Dr. Angus Catchot presenting the MEA Distinguished Service Award to
Dr. Richard Brown.
Dr. Richard Brown, recipient of the MEA Distinguished Service Award (the highest honor bestowed by the MEA), has served the entomological interests of Mississippi as director of the Mississippi Entomological Museum and professor in the department of entomology since 1980. His varied background includes the teaching of medical and applied entomology courses, serving as museum technician of the Smithsonian Institution, and entomological excursions to Costa Rica, Mexico, England, Netherlands, Chile, Haiti, Venezuela, New Caledonia, Fiji Islands, Thailand, and Spain. He has authored many articles including a volume on Tortricid moths (Vol. 5, World Catalog of Insects) and four book chapters including descriptions of several new species. A recent publication Dr. Brown co-authored has been awarded the prestigious editor's choice award for best articles in 2008 published in the Annals of the Entomological Society of America. He has also developed the Orkin Insect zoo Entomology Curriculum Module with MSU Center of Education, Technology and Development (http://insectzoo.msstate.edu/). Dr. Brown is an active member of 10 entomological societies. His behind the scenes work with 'Pickin' and Grinnin' has added immense depth and enjoyment to annual meetings of the MEA, where he has previously received merit awards in teaching (1984) and research (1991). He has also been awarded the First Mississippi Corporation Award of Excellence for outstanding work in the Mississippi Agricultural Experiment Station.
---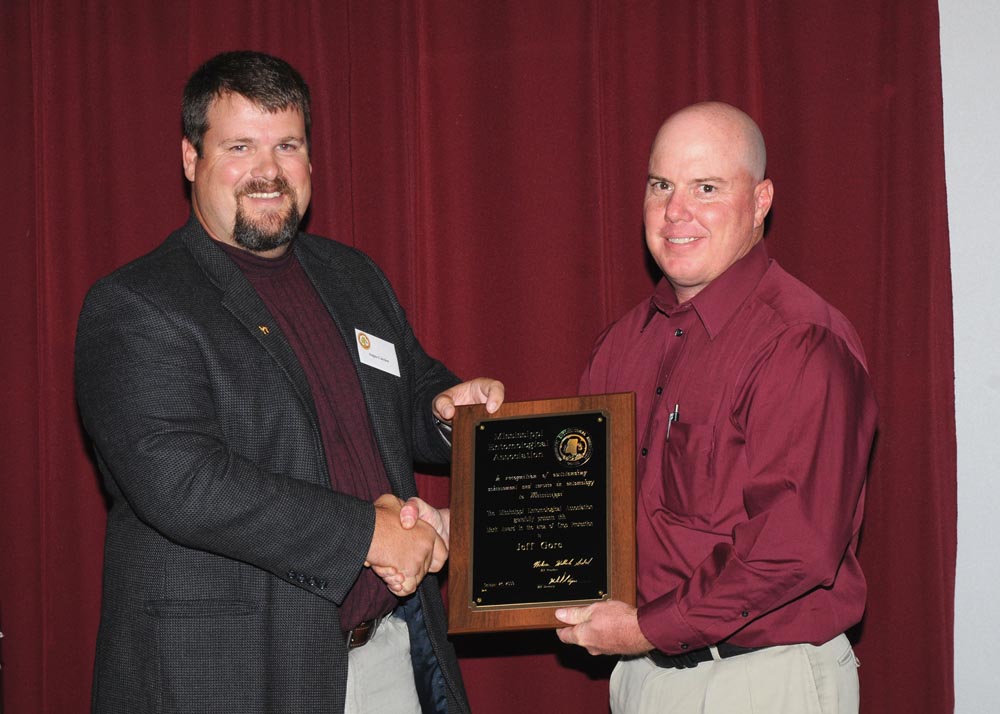 Dr. Angus Catchot presenting the MEA Merit Award for Crop Protection
to Dr. Jeff Gore.
Dr. Jeff Gore completed a B.S. degree from Auburn University and a Masters and PhD. from Louisiana State University in Entomology. Jeff's commitment to agriculture and desire to generate and disseminate applied and basic research findings both at the producer level and the academic level is exemplary. Jeff is also a leader in the mid-south, often heading up multi-state projects and working across disciplines for interactive research needs. Because of his ability to generate and communicate his findings, Jeff has become widely respected with producers, academicians, consultants, and industry locally, regionally and nationally. For extension personnel who often draw on data from researchers in and around MS, Jeff is the "go to" man. Since Dr. Gore's professional employment began in 2003, he has senior authored 19 refereed journal papers, co-authored 21 refereed journal papers, written 3 book chapters, and 54 extension and other non refereed research articles. Dr. Gore is highly respected within the agricultural community, presenting 48 invited papers and over 40 more oral presentations. Jeff will be serving as the MEA president this coming year.